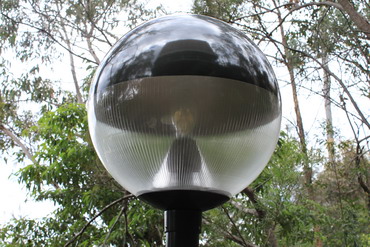 Spheres Black Top Prismatic
Dasco has a range of Acrylic prismatic canopy spheres, fitted with a spun aluminium black top.
Supplied with a cast aluminium fitter.

Pole caps to suit 60,76,80,89.
Catalogue No
PT400 BT PMPPS Max wattage 80w
PT500 BT PMPPS Max wattage150w

The prismatic black top sphere has been tested and passed as a TYPE 3 luminaire for local road areas and pathways,public activity areas,outdoor car parks.
Complies with ASNZ 1158.3.1:1999

Control gear

Mercury Vapour 50w,80w,125w.
High Pressure Sodium 50w,70w,150w.
Metal Halide 70w,100w,150w.
PLC 13w,18w,26w.
Models
Dimensions
H:400Dia